Hello!
My name's Bill Murphy. I'm the other music director this year at Radio Monash. Apologies about the radio silence from me this year, I've been really busy. As it turns out, third year is hard.
Normally, I like to listen to music and review it for this website. However, whilst I haven't been able to review things, I haven't stopped listening to music. Now that I have some spare time up my sleeve, anything that I actually want to review is old as balls.
So for those of you, who have been a bit behind on things this year, here's a brief TL;DR summary of fifteen releases I've either enjoyed or absolutely loathed, just to catch you and me up.
Sleigh Bells – Reign of Terror


Mr. Miller and Ms. Krauss, what you've just made is one of the most insanely idiotic things I have ever heard. At no point in your turn the volume up to 14, turn the songwriting down to -2 album were you even close to anything that could be considered a good song. Everyone who bought this is now dumber for having listened to it. I award you no points, and may God have mercy on your soul.
0/10
The Big Pink – Future This


English synth-rockers hit the second album speed-bump, lose steering joint, tire falls off, and have to wait three hours for a tow-truck. After first album full of stadium-sized anthems, they miss the bar, hitting every cheesy 80's cliché along the way. Avoid.
1/10
Spiritualized – Sweet Heart, Sweet Light


Jason Pierce overcomes degenerative liver condition, writes sprawling, glorious pop anthem riddled album, and makes reviewer cry.
AOTY.
10/10
Pulled Apart By Horses – Tough Love


PABH are one of the best rock bands going around today. Whilst their first album was a raw, adrenaline-packed thrill ride that made you want to throw furniture around the room, their second album is about 80% as balls-to-the-wall, but shows a bit of refinement which will make sure their sound doesn't grow immediately tired. Anyway, 80% of 10 is still…
8/10
Lana Del Rey – Born To Die


Stunning Americana meets trip-hop production, let down by the fact Lana Del Rey is fucking boring.
3/10
Of Montreal – Paralytic Stalks


Of Montreal with a serious face on. Not as horrible as that sentence made it sound, but not as fun as other Of Montreal records.
4/10
Pepe Deluxé – Queen of the Wave


Swedish sample-pop group throw everything against the wall to see what sticks. The problem is that everything did. Whilst some tracks are utterly magnificent and leave the listener with a "What the hell did I just hear and why was it so amazing?" feeling, the album itself could've benefited from a bit more restraint.
5/10
Death Grips – The Money Store


Angry skate-punk rappers find themselves on major label; are angry. The Money Store is an excellent album you could throw chairs around to. Don't try to read too deeply into it, though.
9/10
Lil B – God's Father/The Basedprint/Trapped in Basedworld


#TYBG
Seriously, it's like Christmas every 3-5 weeks with Lil B dropping another mixtape. He has 1500 songs recorded according to Wikipedia. Just sit back and think about how big that number actually is. The Basedprint gets the nod over the other two latest (He's really only started to hit his stride recently), because Basedprint has better production than TiB and God's Father is just too long to listen to in one sitting.
5/7/6/10
Kindness – World, You Need a Change of Mind


Kindness makes a carefully restrained synth pop/disco. Unfortunately, the music itself is flawless, but it's not an album you can really fall in love with or even dance to, it's more just background music for when you're doing the dishes. Keep an eye out for future releases though, he's got an ear for arrangements.
6/10
Hermitude – HyperParadise


Australian hip-hop duo make sweet house/chillwave/latin/jungle-influenced beats. They don't have anyone rap over the top of it, opting for actual singing (occasionally) and huge melodies, thus not ruining how good their beats are. Now if only the rest of Australian hip-hop could follow this example.
9/10
Howler – America Give Up


The low-fi surfish garage pop movement that's going on is for the most part, dreadful. Howler are one of the few not terrible bands to stand out from the genre, based on a very promising debut album. Makes Nathan Williams look like the joke he is.
8/10
Grimes – Oblivion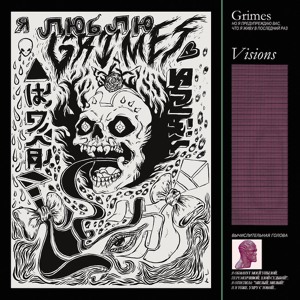 Once you get past the fact that she labelled her music'post-Internet', Grimes' album has a lot to offer. It's a more accessible version of Fever Ray's album containing what could actually be construed as 'Radio-friendly' songs. A really good listen is both upbeat and downbeat moods.
9/10
I look forward to actually writing proper reviews for you all next semester. Maybe even a blog too.
Comments
comments